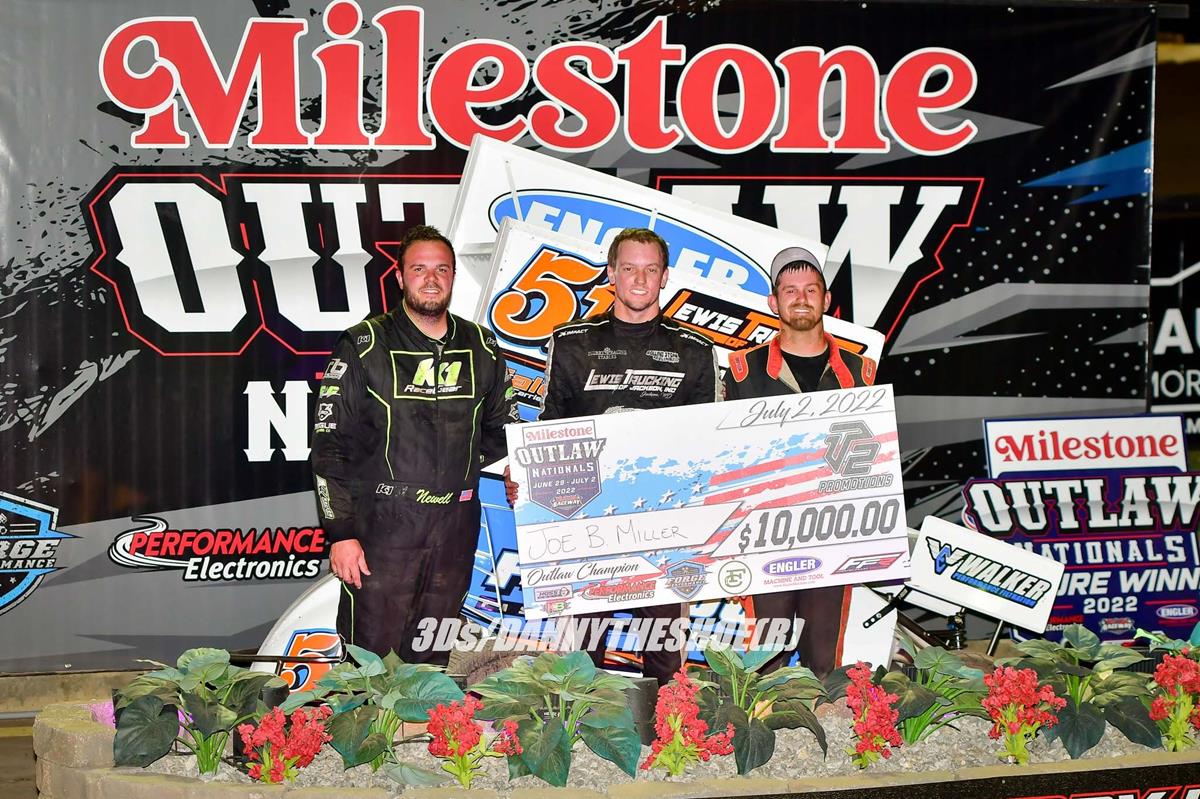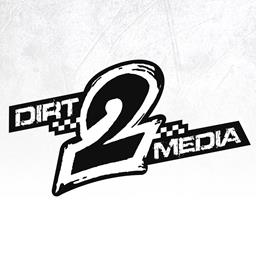 ---
Joe B. Miller Wins Milestone Outlaw Nationals
Forge Performance Championship Night • Milestone Outlaw Nationals presented by Performance Electronics
(07/03/2022) Joe B. Miller left Tulsa over $10,000 richer following his Milestone Outlaw Nationals victory on Saturday night at Port City Raceway. The Millersville, Missouri driver led wire-to-wire to collect the the feature win.
Miller and Frank Flud made up the front row of the 50-lap main event promoted by T2 Promotions. Miller would jump to the early race lead with Flud and Jeffrey Newell in tow.
Jake Nail, TJ Smith, and Kris Carroll battled for third, fourth, and fifth before Carroll's entry came to a halt in turn one. Meanwhile Justis Sokol had charged from his eleventh place starting position to the top five. Columbus, Indiana driver Gunnar Setser also raced his way up sixth from his thirteenth starting position.
Miller had stretched his advantage to 1.612 over Frank Flud when the checkered flag flew. Newell, Smith, and Justis Sokol rounded out the top five in Outlaw competition.
Lathe Griggs picked up the Restricted feature win with Jett Nunley and Chase McDougal rounding out the podium.
Watch the entire event ON-DEMAND on Fast Four Media!
Outlaw • 45 entries
Gjerness Racing A Feature (50 Laps): 1. 51B-Joe B Miller[1]; 2. 81-Frank Flud[2]; 3. 12-Jeffrey Newell[3]; 4. 8G-TJ Smith[7]; 5. 25S-Justis Sokol[11]; 6. G5-Gunnar Setser[13]; 7. 97-Scotty Milan[10]; 8. 08-Peter Smith[16]; 9. 14R-Jake Nail[5]; 10. 55-Jett Barnes[20]; 11. 24S-Colby Sokol[17]; 12. 17S-Baron Silva[18]; 13. 93-Matt Carr[14]; 14. 2B-Garrett Benson[23]; 15. 13-Elijah Gile[9]; 16. 99-Cody Key[21]; 17. 25J-Delaney Jost[12]; 18. 39-Russ Disinger[15]; 19. 1P-Jase Randolph[8]; 20. 1V-Johnny Boland[22]; 21. 94-Craig Ronk[24]; 22. 36-Kris Carroll[4]; 23. 3-Cole Roberts[6]; 24. 67-JJ Loss[19]
Gjerness Racing B Feature (20 Laps): 1. 24S-Colby Sokol[2]; 2. 17S-Baron Silva[1]; 3. 67-JJ Loss[3]; 4. 55-Jett Barnes[5]; 5. 99-Cody Key[7]; 6. 1V-Johnny Boland[6]; 7. 3S-Cole Schroeder[8]; 8. 19J-Justin Robison[16]; 9. 94-Craig Ronk[9]; 10. 63-Colton Key[4]; 11. 22RL-Gage Laney[18]; 12. 88R-Ryder Laplante[13]; 13. 122-Lane Warner[20]; 14. 96-Jayson Campbell[17]; 15. 21-Ty Hulsey[15]; 16. 11-Stefan Sidur[11]; 17. 92-Jake Rosario[12]; 18. 78-Ethan Ayars[10]; 19. (DNS) 2B-Garrett Benson; 20. (DNS) 11J-Jett Hays
Gjerness Racing C Feature (15 Laps): 1. 21-Ty Hulsey[1]; 2. 19J-Justin Robison[8]; 3. 96-Jayson Campbell[2]; 4. 22RL-Gage Laney[4]; 5. 11J-Jett Hays[7]; 6. 122-Lane Warner[5]; 7. 7A-Aaron Jesina[3]; 8. 21G-Garth Kasiner[10]; 9. 5P-Luke Porter[6]; 10. 21C-Carter Holt[11]; 11. 27-Kaden Weger[9]; 12. 44-Samuel Holt[12]; 13. (DNS) 28-Chelby Hinton; 14. (DNS) 938-Bradley Fezard; 15. (DNS) 10T-Cooper Smith
Hayward Motorsports Qualifier #1 (15 Laps): 1. 25S-Justis Sokol[1]; 2. 8G-TJ Smith[4]; 3. 39-Russ Disinger[2]; 4. 08-Peter Smith[3]; 5. 24S-Colby Sokol[8]; 6. 3S-Cole Schroeder[9]; 7. 94-Craig Ronk[5]; 8. 2B-Garrett Benson[7]; 9. 7A-Aaron Jesina[10]; 10. 22RL-Gage Laney[11]; 11. 19J-Justin Robison[12]; 12. 44-Samuel Holt[13]; 13. 11J-Jett Hays[6]
Hayward Motorsports Qualifier #2 (15 Laps): 1. 25J-Delaney Jost[1]; 2. 13-Elijah Gile[3]; 3. G5-Gunnar Setser[7]; 4. 17S-Baron Silva[2]; 5. 55-Jett Barnes[5]; 6. 67-JJ Loss[4]; 7. 78-Ethan Ayars[9]; 8. 92-Jake Rosario[6]; 9. 96-Jayson Campbell[8]; 10. 5P-Luke Porter[11]; 11. 21C-Carter Holt[12]; 12. (DNS) 28-Chelby Hinton; 13. (DNS) 938-Bradley Fezard
Hayward Motorsports Qualifier #3 (15 Laps): 1. 97-Scotty Milan[2]; 2. 1P-Jase Randolph[4]; 3. 93-Matt Carr[3]; 4. 63-Colton Key[1]; 5. 1V-Johnny Boland[11]; 6. 99-Cody Key[5]; 7. 11-Stefan Sidur[8]; 8. 88R-Ryder Laplante[6]; 9. 21-Ty Hulsey[7]; 10. 122-Lane Warner[12]; 11. 21G-Garth Kasiner[10]; 12. 27-Kaden Weger[9]; 13. (DNS) 10T-Cooper Smith
G Force Chassis Heat #1 (8 Laps): 1. 67-JJ Loss[2]; 2. 25J-Delaney Jost[1]; 3. 92-Jake Rosario[3]; 4. 2B-Garrett Benson[5]; 5. 11J-Jett Hays[8]; 6. 3S-Cole Schroeder[7]; 7. 1V-Johnny Boland[4]; 8. 44-Samuel Holt[6]
G Force Chassis Heat #2 (8 Laps): 1. 1P-Jase Randolph[2]; 2. 63-Colton Key[1]; 3. 88R-Ryder Laplante[3]; 4. 96-Jayson Campbell[4]; 5. 11-Stefan Sidur[5]; 6. 78-Ethan Ayars[7]; 7. 22RL-Gage Laney[6]; 8. 122-Lane Warner[8]
G Force Chassis Heat #3 (8 Laps): 1. 08-Peter Smith[2]; 2. 8G-TJ Smith[6]; 3. 94-Craig Ronk[4]; 4. 17S-Baron Silva[8]; 5. 7A-Aaron Jesina[3]; 6. 27-Kaden Weger[7]; 7. 5P-Luke Porter[5]; 8. 938-Bradley Fezard[1]
G Force Chassis Heat #4 (8 Laps): 1. 13-Elijah Gile[2]; 2. 93-Matt Carr[4]; 3. G5-Gunnar Setser[1]; 4. 55-Jett Barnes[6]; 5. 24S-Colby Sokol[7]; 6. 28-Chelby Hinton[5]; 7. 21C-Carter Holt[3]; 8. (DNS) 10T-Cooper Smith
G Force Chassis Heat #5 (8 Laps): 1. 39-Russ Disinger[1]; 2. 97-Scotty Milan[3]; 3. 25S-Justis Sokol[5]; 4. 99-Cody Key[6]; 5. 21-Ty Hulsey[7]; 6. 21G-Garth Kasiner[2]; 7. 19J-Justin Robison[4]
Hot Laps (4 Laps): 1. 51B-Joe B Miller, 00:09.873[4]; 2. 3-Cole Roberts, 00:10.134[3]; 3. 12-Jeffrey Newell, 00:10.139[2]; 4. 81-Frank Flud, 00:10.145[1]; 5. 14R-Jake Nail, 00:10.170[6]; 6. 36-Kris Carroll, 00:10.171[5]
Restricted • 22 entries
Gjerness Racing A Feature (35 Laps): 1. 3-Lathe Griggs[1]; 2. 33-Jett Nunley[2]; 3. 73-Chase McDougal[3]; 4. 45-Bradley Cox[5]; 5. 11H-Nicholas Harris[12]; 6. 10T-Carter Sauer[4]; 7. 1P-Mekentzi Potter[9]; 8. 10S-Scout Spraggins[10]; 9. 5-Ryder McCutcheon[7]; 10. 88M-Maxon Crabdree[8]; 11. L8-Ethan Stevens[13]; 12. 7K-Kennzzie Brown[18]; 13. 31BW-Braxton Weger[19]; 14. 30J-Addison Jones[20]; 15. 8-Jase Blevins[6]; 16. K9-Sami Porter[17]; 17. 5L-Landon Jesina[16]; 18. 21K-Kooper Kelly[22]; 19. B2-Carson Bolden[15]; 20. (DNS) 2T-Tyler Crow; 21. (DNS) 46-Peyton White; 22. (DQ) 83-Wyatt Miller[11]
Hayward Motorsports Qualifier #1 (15 Laps): 1. 5-Ryder McCutcheon[3]; 2. 88M-Maxon Crabdree[1]; 3. 1P-Mekentzi Potter[2]; 4. 10S-Scout Spraggins[5]; 5. 83-Wyatt Miller[7]; 6. 11H-Nicholas Harris[6]; 7. L8-Ethan Stevens[10]; 8. 2T-Tyler Crow[11]; 9. B2-Carson Bolden[12]; 10. 5L-Landon Jesina[13]; 11. K9-Sami Porter[14]; 12. 31BW-Braxton Weger[9]; 13. 30J-Addison Jones[15]; 14. 7K-Kennzzie Brown[4]; 15. 21K-Kooper Kelly[16]; 16. 46-Peyton White[8]
G Force Chassis Heat #1 (8 Laps): 1. 7K-Kennzzie Brown[2]; 2. 1P-Mekentzi Potter[3]; 3. 88M-Maxon Crabdree[5]; 4. 31BW-Braxton Weger[1]; 5. 46-Peyton White[6]; 6. 5L-Landon Jesina[4]; 7. K9-Sami Porter[8]; 8. 30J-Addison Jones[7]
G Force Chassis Heat #2 (8 Laps): 1. 5-Ryder McCutcheon[1]; 2. 10S-Scout Spraggins[2]; 3. 11H-Nicholas Harris[4]; 4. 83-Wyatt Miller[5]; 5. 2T-Tyler Crow[3]; 6. L8-Ethan Stevens[7]; 7. B2-Carson Bolden[8]; 8. 21K-Kooper Kelly[6]
Hot Laps (4 Laps): 1. 33-Jett Nunley, 00:10.507[4]; 2. 3-Lathe Griggs, 00:10.553[1]; 3. 73-Chase McDougal, 00:10.622[2]; 4. 45-Bradley Cox, 00:10.632[3]; 5. 8-Jase Blevins, 00:10.737[6]; 6. 10T-Carter Sauer, 00:10.879[5]
---
Article Credit: Ryan Bowling
Back to News